Multiple QEII closures Friday, several serious collisions on icy roads reported across Alberta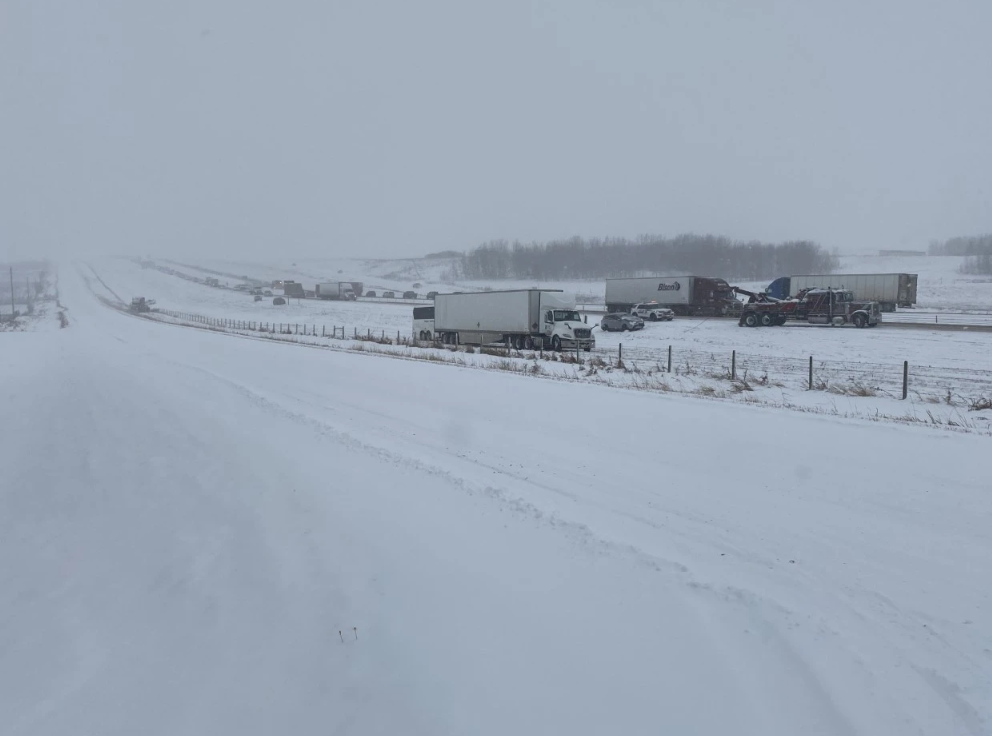 Several serious — and in at least one case fatal — crashes were reported across Alberta Friday as snow blanketed the province and a cold front moved in.
Police asked motorists to check Alberta 511 before travelling for highway updates.
Large pileup on QEII north of Calgary
Alberta's busiest highway saw a lot of traffic issues Friday.
Around 6:45 p.m. Friday, a collision was reported on the QEII northbound at Township Road 285 near Crossfield.
Just after 7 p.m., Airdrie RCMP said the northbound lanes of the highway were closed due to the crash. RCMP were not able to say if there were any injuries at the time.
An update about two and a half hours later from RCMP said the road was open again but highway driving conditions were very poor due to icy roads.
It came after around 25 to 30 vehicles were involved in a collision Friday morning just up the highway outside Carstairs.
Airdrie Rural RCMP closed the northbound lanes on Highway 2 about 40 kilometres north of Calgary for a majority of the day after the serious collision.
In a news release, Mounties said the collision happened around 11:25 a.m. on the QEII near Highway 581.
EMS confirmed to News a woman was driven to hospital by ambulance in serious condition. However, they said there may be more injuries.
The EMS spokesperson also said there are "a lot of stranded people" and a transport vehicle will be sent to the area. It's unclear when the transport vehicle will arrive and who will send the vehicle.
EMS noted there was reduced visibility and icy conditions near the scene of the crash.
Melony Frei witnessed the crash and saw emergency crews rushing to the scene while on her way from Calgary to Edmonton.
She said visibility on the highway was poor and the road was "like sheer ice."
Frei said she was stuck in her car, but was able to resume her trip to Edmonton hours later. There was a lot less snow and ice the rest of the way.
"I can see why cars couldn't make it all the way up the hill. Most of them probably slid down it," Frei told News.
"I had my knitting with me. I hung out, and listened to music and knit."
Rick Blair, chief administrative officer of the Town of Carstairs, told News emergency crews were diverting people away from Highway 2.