1 dead, 9 injured after multi-vehicle pileup on Highway 2 near Crossfield: RCMP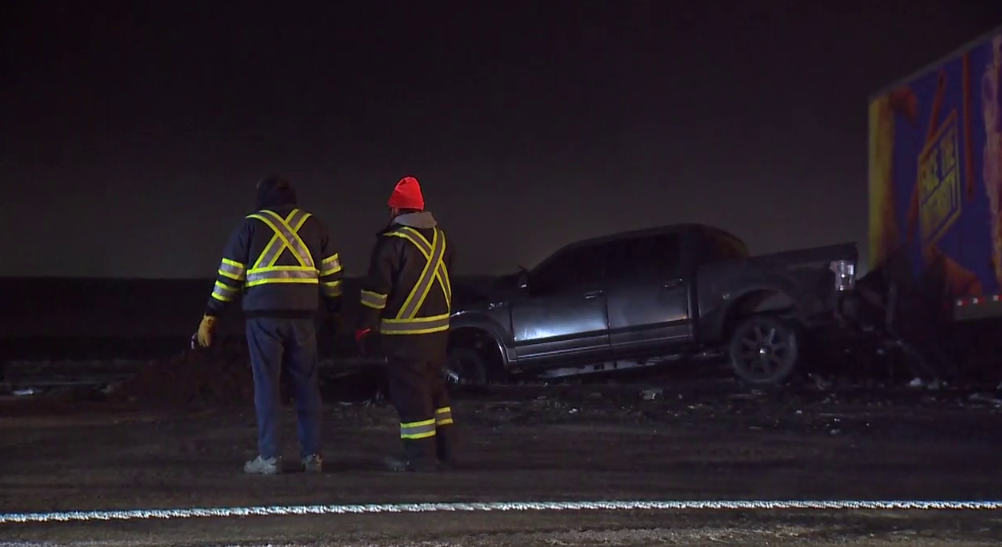 Mounties say a multi-vehicle collision Tuesday night was fatal and has closed a stretch of the Queen Elizabeth II Highway north of Airdrie.
RCMP said around 10:10 p.m. police responded to a crash that had upwards of 20 vehicles involved. The crash took place on Highway 2, north of Veterans Boulevard at Highway 72 in Rocky View County.
Police confirmed one person died as a result of the crash. Nine people, from different vehicles, were also injured and transported by ground ambulance to nearby hospitals for various non-life-threatening conditions.
Airdrie RCMP, an RCMP collision reconstructionist, EMS and area fire departments remain on scene as of 7:30 a.m. Wednesday.
Police said a preliminary investigation determined a commercial vehicle including a trailer, along with five sedans, four pickup trucks, three SUVs and a passenger van were involved in the crash.
The cause of the crash remains under investigation, though primary factors appear to be weather and road conditions, police said.
Vehicle fires were also reported to have happened as a result of the crash. It's unclear how long it took area fire departments to douse the blaze.
One northbound lane of Highway 2, starting at Veterans Boulevard, remained closed as of 11:30 a.m. and motorists are advised to expect delays throughout Wednesday morning. Traffic was being diverted north through Highway 567.
RCMP said travel along southbound Highway 2 remains open at a very slow pace; however, officers are diverting traffic near Highway 72 and Highway 806.
Due to "intense fog, icy road conditions and changing weather patterns that are dramatically impacting the ability for motorists to see," Mounties are asking motorists to not travel in the area if they don't have to.
"(This would) allow for first responders to attend to those who require assistance," the news release said.